Exploring Post-Processing Operations in Injection Molding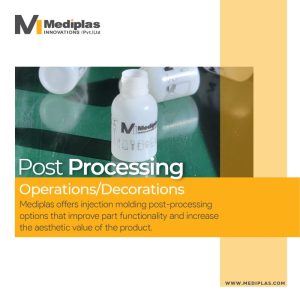 There's a common misconception that the injection molding process ends once the heated liquid is transformed into a solidified structure. However, some products need to go through the post-molding and decorative processes. In this blog, we'll discuss some of the most widely used post-processing operations in plastic-manufactured items.
As the name implies, post-processing operations take place after the mold has taken a physical form and the entire process of injection molding has come to an end. Some of the widely-known post-processing operations in mold making are:
Ultrasonic welding is used for joining or welding two pieces of plastic together with the help of ultrasonic acoustic vibrations. These vibrations not only provide adequate heat to melt the plastic, but they also accommodate the mold with enough friction, ensuring the parts remain in their place.
One of the most effective ways to transform a plastic mold design from mediocre to grade A is to apply a colored coating or paint on molded parts. The main objective behind the colored coating is to first: make it look more aesthetically pleasing and second: to hide the defects or surface dents as much as possible.
Screen Printing & Pad Printing
After a plastic mold design is ready, the one thing that makes it even more attractive is the graphics. Here comes pad printing and screen printing into the play. When it comes to transferring logos, and labels, along with stickers or identification numbers to a mold, usually, these two methods are used. The only downside of screen printing is that it can't transfer designs unless the mold has a flat surface. On the plus side, pad printing is versatile enough to print any and everywhere on a part.
As mentioned earlier, screen and pad printing is an excellent choice for printing designs. However, there's another alternative when dealing with decorating a mold, known as laser engraving. During the laser marking process, the part is subjected to a laser beam that's responsible for adding the logos and effects on it such as engraving ID numbers, symbols, and precise marking.
Mediplas Innovations – Your Associate in Injection Molding
Through efficient leading-edge innovations and effective state-of-the-art technology, we at Mediplas Innovations have a wide range of post-molding services, including post-processing operations and post-processing decorations, to enhance part functionality and simultaneously elevate the mold's visual appearance. For more information regarding mold making services, feel free to contact our professionals!