How Mediplas Brings Your Ideas to Life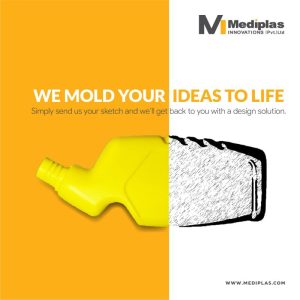 Most products in the textile, pharmaceutical, FMCG, and lubricant industries require some level of rigid plastic packaging for their products. Due to the specific requirements of these products, each item carries with itself custom needs for functionality, form, and design. Mediplas has mastered the art of transcending the boundaries of imagination by materializing your visions into reality. In this blog, we'll see how Mediplas strives to develop your ideas into a tangible product which allows it to become one of the most reliable plastic packaging manufacturers in Pakistan.
Effective Use of State-of-the-Art Technology in Rigid Plastic Packaging
Mediplas has understood and embraced the need for up to speed technology for quality and efficiency of manufacturing. The production facilities utilize prototyping technologies such as 3D printing and test molds, to post molding operations such as laser engraving, pad, and UV printing. Industrially relevant technology combined with technical skill boosts the ability for Mediplas to deliver projects that are not only in line with its customers' needs, but also set a bar for quality production in the industry of plastic manufacturing 
Empowering Personnel Through Cutting-Edge Innovations
By placing technology at its core during the manufacturing process of various plastic products, Mediplas has pulled out all the stops to integrate its manpower with leading-edge, innovative solutions – one of the most prominent reasons why Mediplas has emerged as the topmost plastic bottle manufacturer in Karachi.
In addition to using state-of-the-art technology, Mediplas has paved the path to success by applying cost-effective methods, providing top-notch quality products, and, last but not least, enhancing productivity by developing durable primary and rigid plastic packaging for industrial usage.
Mediplas – Breathing New Life into Your Designs Since 1999
Product design is the first step in the manufacturing process, and without a solid design idea, it's nearly impossible to thrive in an industry. In addition, Mediplas pays great attention to detail in design as it's one of the most fundamental factors of a product that can be used to measure the success of the said product. 
Mediplas prioritizes product caliber and genuinely believes in the "quality above all else" doctrine. Moreover, the dedicated engineering team operates collaboratively with our esteemed clientele to ensure the design comes into existence according to the instructions.
Since 1999, Mediplas has made a name for itself by designing, developing, and manufacturing primary and rigid plastic packaging for various industries, including FMCG, pharmaceutical, textile, petrochemical, cosmetic, and everything. Because of our workforce's undying zeal, motive-driven commitment, and unparalleled dedication, Mediplas has become synonymous with reliability, trust, and conviction.
In Conclusion
Integrating the latest technology takes a company to new heights regarding production capacity, employee performance, and streamlining operational processes. In the same way, We offers 360-degree design solutions, utilizes several cutting-edge technologies, and implements up-to-date innovations to come up with out-of-the-box design solutions.